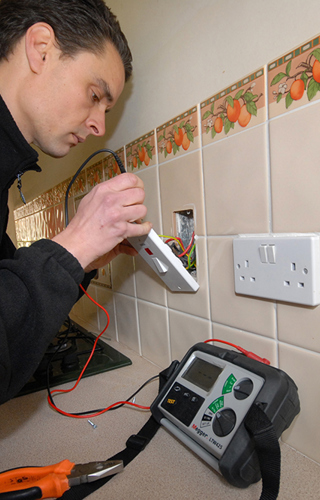 Electrical Safety Standards in the Private Rented Sector
These place legal requirements on landlords to ensure that every electrical installation in a privately rented residential premise is inspected and tested at intervals of no more than 5 years, by an electrically qualified and competent person.
The Regulations apply in England to:
All new tenancies granted (signed up to) from 1 July 2020, and
All existing tenancies granted from 1 April 2021.
This effectively means that an inspection has to be made to ascertain that the electrical installation provided in such a property is safe for continued use.
Further information about the Regulations can be found on the GOV.UK website.
This article addresses some of the pertinent aspects, from a practitioner perspective, although equally may serve as a useful reference to landlords, letting agents and property professionals alike.
It is intended to be read in conjunction with the recent Wiring Matters article covering Electrical Installation Condition Reports (EICRs).
Who should be doing the inspections?
One of the first hurdles encountered is the question of who can actually undertake the inspection? The simple answer is somebody who is 'competent'. Sadly, this is where things start to go wrong.
Unfortunately, there is no magic formula prescribed for demonstrating 'competence' in this field, although certainly experience and formal qualifications, particularly in the field of BS 7671 related electrical testing and inspection work, would feature strongly in the mix.
A property owner, landlord or letting agency, if undertaking due diligence in sourcing a suitable practitioner can often end up with conflicting guidance and opinion, especially as the majority of practitioners out there if asked, would of course deem themselves competent!
Electrical Safety First's long-standing and industry-endorsed Best Practice Guide 4 covers electrical installation condition reporting (EICRs). It recommends that the person carrying out the inspection and testing must be electrically skilled to do so and also as a minimum:
have adequate knowledge and experience of electrical installations to carry out such inspections safely
be well-versed and have full understanding of the current edition of BS 7671 – particularly the aspects relating to periodic inspecting, testing and reporting
be adequately skilled in testing procedures and safe use of test equipment
have in-depth knowledge of the particular type of installation being tested.
The Electrical Safety Roundtable, an industry forum founded in 2012 by the Ministry of Housing, Communities & Local Government, provides further specific guidance in its publication [PDF, 178KB] which suggests that the inspector holds:
adequate insurance – including at least £2 million public liability and £250,000 of professional indemnity
a qualification covering the current edition of BS 7671
a qualification covering periodic inspection, testing and certification of electrical installations
at least two years experience in undertaking periodic inspections.


Attention is additionally drawn to another website, updated weekly, which lists organisations or individuals who have voluntarily put themselves forward for assessment and registration by a Government-approved Competent Person Scheme Operator, to demonstrate their competence in undertaking such reports.
Clearly, therefore, an electrical practitioner wishing to develop business opportunities in this field may want to consider gaining inclusion on this database if not already having done so. This would be instigated via membership of a relevant Government-approved Part P Competent Person Scheme. From a landlord's or property owner's perspective, clearly, this should be the first place to look, if trying to locate a local suitable electrically 'competent' person.
It should be noted that the database in its search parameters differentiates between parties suitable for installation work only and for carrying out inspections, as there are significant differences in the skill sets needed.
Electrical installation condition reports (EICRs)
With an EICR, concluding a 'satisfactory' outcome is the target to aim for to satisfy the ESSPRS Regulations, and although a new concept to many parties and professionals in the rental sector, should certainly not be new to practitioners familiar with BS 7671.
However, EICRs, the manner in which they are conducted, concluded and followed up, continues to generate much controversy and often unnecessary dispute, which can sometimes end up involving litigation.
Although the separate EICR Wiring Matters article covers the process of these reports and some of the many myths associated with them in more depth, specific topics relevant to EICRs in residential premises are however worth a mention here.
Sampling
Whilst this concept may be more relevant to larger or complex installations it often causes contention and can lead to liability issues if incorrectly applied to smaller installations such as residential properties.
Guidance given by the Electrical Safety Roundtable suggests that 100% of a residential installation should be tested to ensure it is safe for continued use, with a further recommendation for at least 20% of all wiring accessories to be opened up for a detailed internal examination.
Fig 1: At least 20% of wiring accessories should be examined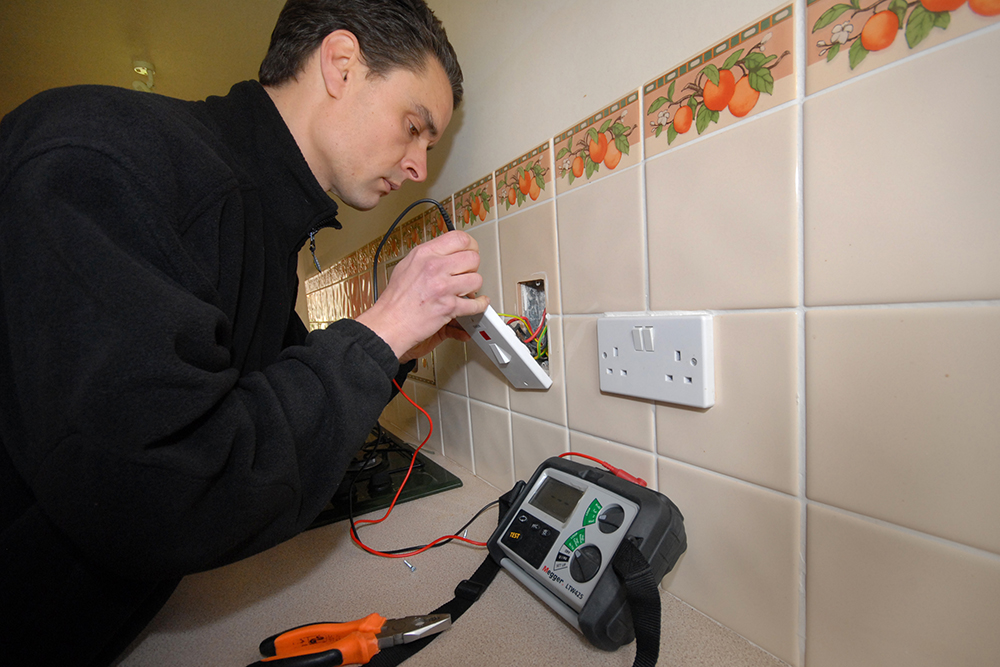 Whilst a full examination of all accessible parts of an installation would be considered to be best practice, in reality, this may sometimes be impractical.
Where limits apply to what can be/will be inspected, right at the outset these need to be formally agreed with the person ordering the work. As a practitioner undertaking such inspections, it will be essential to fully detail these on the report, together with the name of the person with which it has been agreed.
Finally remember – the more exclusions or limitations a report contains, the less use it will be!
Think of EICRs very like MOT inspections on a motor vehicle. What use would a vehicle MOT inspection be if it were perhaps to be cut back due to cost considerations, and riddled with exclusions and unexamined areas?  Would you feel safe driving such a car?
Fig 2: Agree the scope and extent of the inspection carefully, particularly 'sampling' and any excluded areas or items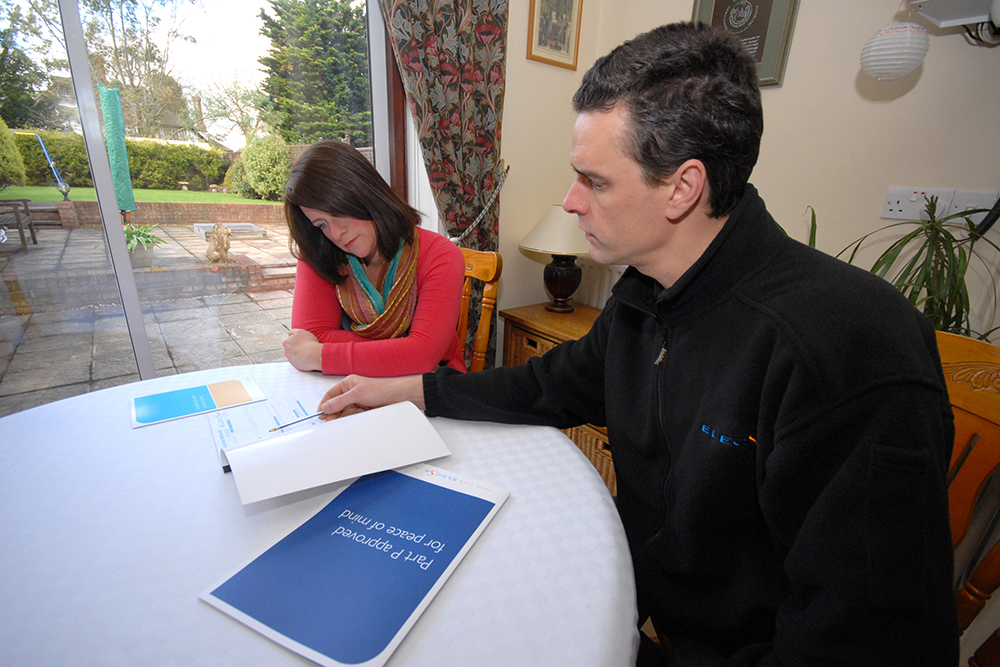 Frequency of inspections
This is another area that causes contention.
The ESSPRS regulations require as a minimum that such inspections be undertaken at least every five years.
Other guidance, notably in the IET's Guidance Note 3 (to BS 7671), suggests that in the case of an existing installation, the duration until the next periodic inspection is to be determined solely by the competent person undertaking the inspection, based on their engineering judgement. A recommendation is also made in Guidance Note 3 for such inspections in domestic accommodation, rented houses and flats to also be undertaken at changes in occupancy.
Also consider the fact that many tenancies are often less than five years in duration, and consequently there may be changes of occupancy within such a five year period.

It is not unheard of for an electrical installation to be damaged or rendered unsafe during a tenancy, after an initial inspection, and then a subsequent tenancy change occurs. Consider therefore very carefully the potential legal liabilities and ramifications if this subsequent new tenant were to be injured or worse by an unsafe electrical installation. 
Remedial work following an EICR
Assuming that the EICR has been undertaken correctly, the report may have flagged up some Code C1 or C2 deficiencies, that will have resulted in an 'unsatisfactory' outcome being recorded. Additionally, there may be a need for further investigative work (coded 'FI').
All of these scenarios will need further work undertaken, time committed and money spent before a satisfactory outcome can be arrived at and the rented premises considered electrically safe.
The ESSPRS requires that this remedial work is carried out by a competent person within a maximum of 28 days, or the period specified in the report if less than 28 days.

Best practice, for any item that is considered as presenting immediate danger (and perhaps allocated a C1 code by the inspector) is for it to be dealt with immediately, particularly if the property is occupied and the electrical installation energised and in use.
Upon completion of the necessary work, BS 7671:2018+Amd1:2020 will often require appropriate verification and certification (Electrical Installation Certificate and/or Minor Electrical Installation Works Certificate) to be completed covering the extent of the remedial work undertaken.

Such follow up certification can then accompany the original 'unsatisfactory' EICR to prove the remedial work is complete, and the installation this considered safe. Alternatively, it may be agreed between parties that a new EICR is to be issued concluding 'satisfactory'.
Existing certification or reports
In some instances, existing BS 7671 certification or an EICR report may be available, which leads to the inevitable question of whether they will suffice in lieu of having to undertake a new EICR.
In all cases, very careful study will need to be made, to establish what the existing report or certificate actually covers.
In many instances, it will be apparent that the extent of the work previously certificated or reported on may not extend to fully cover the overall condition of the whole installation. A good example here would be an Electrical Installation Certificate - covering perhaps only a replacement consumer unit or a kitchen extension. Understandably, such certification may not have covered the same scope that a full EICR would have to cover to satisfy the ESSPRS Regulations.
In the case of an existing EICR (or perhaps an Electrical Installation Certification if less than 5 years old) covering the whole installation, guidance suggests that such documentation may be considered. A very careful review should be made, addressing factors such as how long ago the report or certification was produced, if the property has been let since if there has been a high turnover of tenants or any other factors such as alterations or damage to the installation.
Where any doubt exists, best practice to safeguard all parties' long-term legal liabilities would be to undertake a new inspection, to draw another motoring parallel would be selling a second-hand car with a new MOT.
Electrical appliances
The ESSPRS Regulations do not define any requirements relating to built-in, fixed, or portable appliances provided by a landlord. Typically, these might include things such as central heating boilers, water heaters, showers, laundry equipment, immersion heaters and other appliances or white goods.
However, such equipment itself can (and often does) pose hazards of fire and electric shock, suggesting that best practice would of course be to somehow inspect and test them.
It is common practice by practitioners for these to be excluded from the scope of an EICR as, clearly, they are not considered BS 7671-related.
In many instances, the testing regime applicable to appliances (often still colloquially known as 'PAT testing') would be applicable, with proof of such being undertaken being an ideal.
The IET's Code of Practice for In-service Inspection and Testing of Electrical Equipment, 5th Edition provides definitive guidance in this respect, focussing now very much on a risk-based approach rather than defined testing at fixed intervals.
It is also considered best practice, to check if any appliances have been subject to any manufacturer's safety recalls.
A good source for following this up can be found on the Electrical Safety First website.
Fig 3: Consider how fixed electrical appliances forming part of the electrical installation are to be included, and if they
have been subject to a manufacturer's safety recall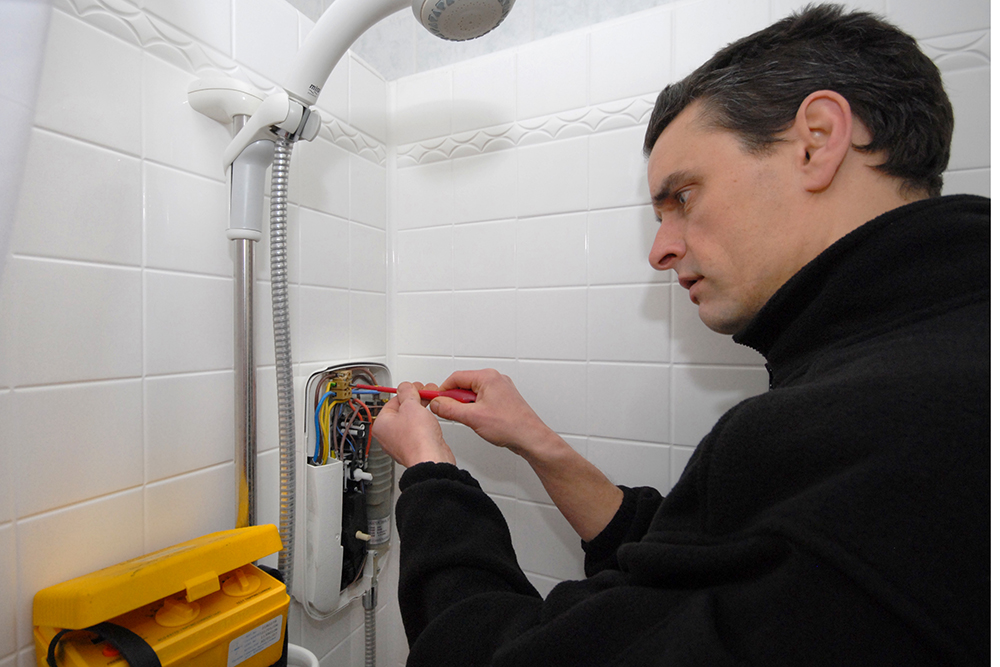 Smoke detection & fire alarms
The Smoke and Carbon Monoxide Alarm (England) Regulations have been in force since 1 October 2015.
They require private sector landlords to have at least one smoke alarm installed on every storey of their property and a carbon monoxide alarm in any room containing a solid fuel-burning appliance. Such alarms need to be proven as functional at the start of each tenancy
The Regulations do not however specify type of alarms, i.e. battery or mains-powered and not surprisingly this is another area in which much controversy abounds.
Definitive guidance in this respect can be found in Table 1 of BS 5839-6:2019 Code of practice for the design, installation, commissioning and maintenance of fire detection and fire alarm systems in domestic premises.
Of note is the fact that BS 5839-6:2019 no longer recognises detection powered by battery power alone as now suitable for rented dwellings.
Smoke detection issues (other than related wiring) is not covered under BS 7671 and therefore should not be attributed any coding under an EICR. Its absence or inappropriateness should not contribute to an 'unsatisfactory' conclusion on such a report.
Industry best practice however, suggests that any noted deficiencies in these respects are formally brought to the landlord's attention, with suitable factual recommendations being made where necessary.
Access and escape routes
Very often, a rental property may only be accessible through other common parts of a building, which will form the vital fire escape route. It is common for these areas to be under the ownership, control, and jurisdiction of other parties.
Consideration must be given to electrical safety aspects in these areas since they will form the safe access and egress to the rental property concerned. In many cases, they may also be a 'protected escape route', which is subject to even higher fire safety considerations under the Building Regulations.
In particular as a minimum, the following points need consideration:
Lighting
Emergency lighting
Fire alarm coverage.
In all cases, it should be established:
if these safety services are needed?
if so, are they provided?
are they adequate?
together with who is responsible for their upkeep?
Where any doubt exists this should be formally brought to the attention of the landlord and, if separate, the building owner.
Fig 4: Access & egress routes – who is responsible?  Very often a grey area, and often inadequately served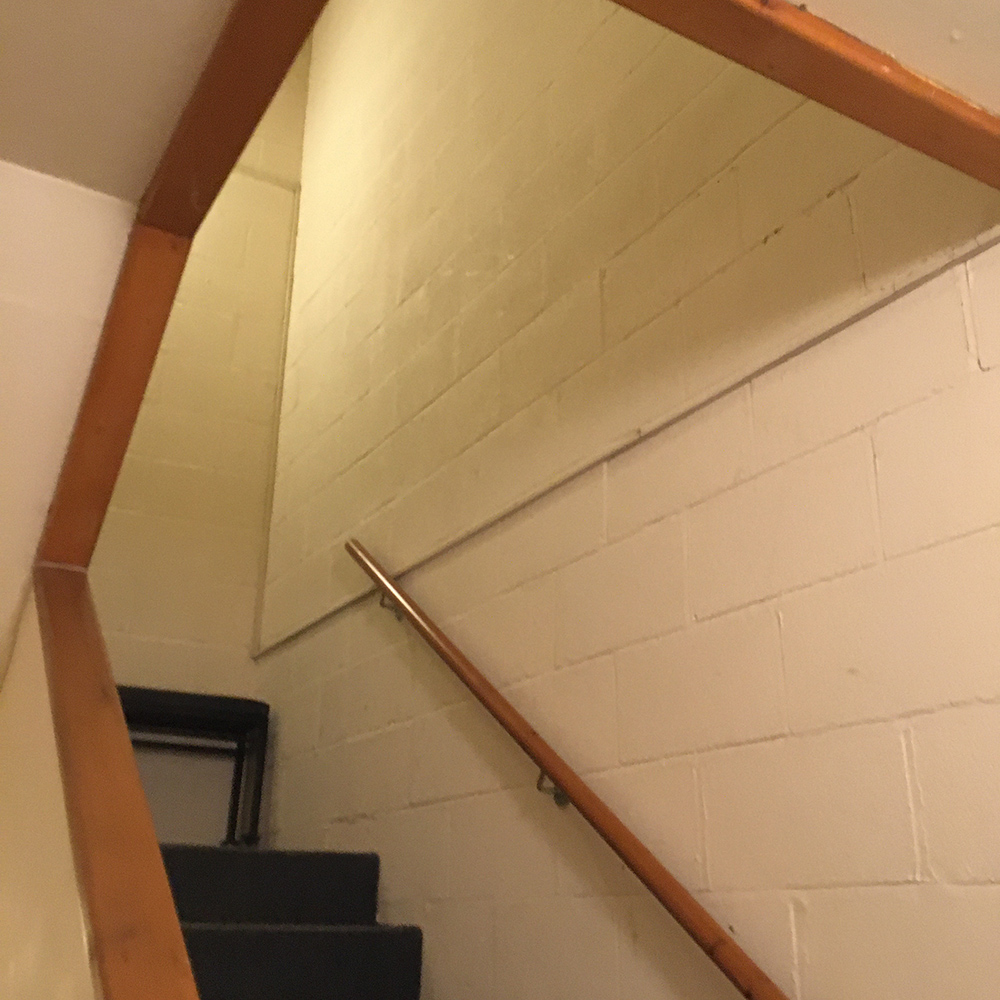 Conclusion
The work associated with ensuring overall electrical safety in private rental properties can provide a good business opportunity for suitably skilled, experienced and qualified practitioners.

Equally, it can also be a minefield for landlords or property professionals.
In all cases, it will be essential to recognise what standards apply, and what is required by those standards before undertaking inspections, giving any advice or recommendation for any remedial work.
Whilst it has sadly been the case that the IET Technical Helpline has received many calls from landlords and property professionals, who have received incorrect advice as well as sometimes having been mis-sold unnecessary work, it is hoped that this article will provide a useful source of reference and help drive up standards.