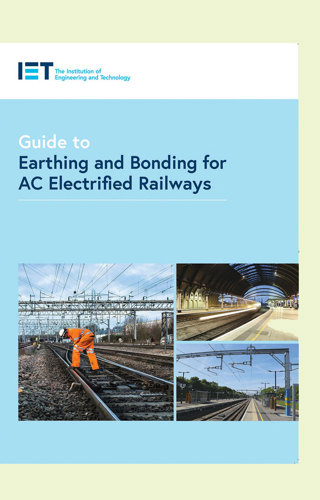 Coming up: Guide to Earthing and Bonding for AC Electrified Railways
Guide to Earthing and Bonding for AC Electrified Railways aims to assist infrastructure owners, railway designers and installation contractors in adopting a harmonised approach towards earthing and bonding design philosophy for 25 kV railway infrastructure.
The guide implements a common earth system formed by bonding lineside assets and structures to the traction return system, effectively forming a low impedance meshed earth network.
Written by industry insiders and based on the cumulative knowledge of two full careers in the field, this guide aims to inform and advise practitioners on an important part of the transport sector.
The guide features:
Description of the AC traction electrification distribution system
Mass of earth as part of the traction return system
Traction return requirements and circuit configuration
Protective provisions for humans
Electrification system assets excluding the traction return
Assets not forming part of the traction return
System measurements
Functional requirement of lightning protection for civil railway structures
Principles of earthing at AC DC Interface
Safe working during maintenance, renewal, and decommissioning.
Pre-orders for this brand new publication can be made through the IET bookshop.
About the authors
Dr Roger D White PhD, BSC, FIEE, CEng
Rail Electrification Consultancy
Director of Rail Electrification Consultancy


Roger is a distinguished and high-achieving engineering practitioner, with extensive experience in both industry and university higher education.
As a former university lecturer Roger has retained a close empathy with University activities and is a regular contributor to the research and PG activities of several universities, including Birmingham, and UCL. He also plays a leading role in activities of the Institute of Engineering and Technology (IET) Chairing Railway Electrification Infrastructure Residential Schools and Earthing Seminars.
Since leaving University Sector full time Roger has had a distinguished career as an electrical power/systems engineer in the rail industry. He has worked on major projects world-wide, and gaining widespread recognition for his innovative and problem-solving skills, applied to complex technical situations.
Allen McDonald
Allen has over 40 years railway experience in ac and dc electrification, and in the engineering management of multidisciplinary projects.
Most recently he was the Engineering Manager for the Atkins/WSP team on Great Western Electrification and the lead earthing and bonding engineer for HS2