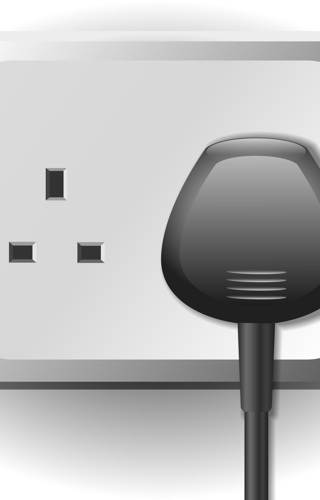 PVC insulated and sheathed cables in a domestic installation – some possible problems?
There are more than twenty million dwellings in the UK and most would be wired in PVC insulated or PVC insulated and sheathed cables, which have generally provided an economic installation and good service. PVC insulation and sheathing on electrical cables was introduced in the late 1950's and early 1960's to replace rubber insulation and sheathing as it was more practical, and not being a naturally occurring compound could be produced in quantity as required.
Unfortunately, now that we know much more about pollution and environmental concerns PVC is often referred to as the 'poison plastic' due to the toxins it can release during manufacture, when exposed to fire, or decomposed in landfills. These toxins have been linked to health problems, along with the possible release of dioxin and phthalate that are possible contributing factors to the hazards it might pose to human health and the environment. There is mounting environmental pressure to ban PVC, but currently, this is not seen as practical due to its excellent properties as an electrical insulator and the need to provide practical alternatives.
However, the thousands of kilometres of PVC insulated and sheathed cables in current use are not without installation and operational problems and this article looks at some that are found in domestic installations.
The 'green goo'
This problem will be well known to the more mature electrician, but many apprentices and younger operatives may not have had experience of this and the IET Helpline still receives calls on it, as do other organisations.
When PVC insulation was first produced the 'plasticiser' chemical added to the PVC mix to allow flexibility (modern waste pipes etc. are unplasticised PVC – uPVC) in some PVC compounds the plasticiser was not chemically bonded into the mix, and thermal cycling of the conductors due to changing load current drew the plasticiser to the surface of the copper conductor, where it dissolved minute traces of copper (hence the green colour) and on vertical cable runs to switches and socket-outlets the force of gravity over the years has drawn it to the lowest point, the switch or outlet. Higher ambient temperatures will accelerate the process and movement down vertical cables.
The main instances arose during the 1960s and 1970s, before reformulation of the PVC fixed this problem, although some cases are still seen today.  
The goo is only ever-present in small quantities, it is messy and of low toxicity but should not be touched with bare hands. The goo is conductive due to the copper in it and when found should be cleaned away to prevent possible tracking. It can be cleaned away with methylated spirits, wearing gloves and paying proper attention to hygiene, and after use the cleaning materials must be properly disposed of.
Figure 1: An example of the 'green goo' (picture reproduced with permission from Goodwin Electrical)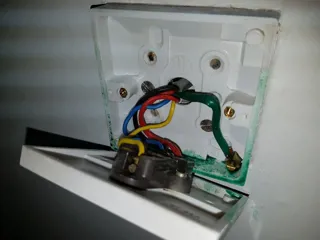 Rewiring the affected final circuits may be considered, but if it is of limited extent regular periodic inspection and insulation resistance testing should be carried out to monitor the problem. It is also suggested by some that the resistance of conductors should be monitored to ascertain that conductors are not being over dissolved with their resistance thereby increasing. There is no specific guidance on the frequency of periodic inspection and testing and this can only be judged by experience of the particular installation. 
Expanded polystyrene and PVC sheathed cables
This is a more significant, although less common, problem than the goo, especially in loft spaces of dwellings. Expanded polystyrene is a light, inexpensive and easily handled material with great thermal insulation properties, making it useful for thermal insulation properties. However, if expanded polystyrene is in intimate contact with PVC sheathed cables, over time a chemical reaction can draw out the sheath plasticiser to form a sticky layer on the outside of the cable. In many cases as the plasticiser in the cable soaks into the expanded polystyrene it shrinks back and in the majority of cases no longer remains in contact with the PVC and deplastisation ceases. But in some cases, it has been reported that the plasticiser migrates out of the PVC, absorbing into and softening the polystyrene, which, in one instance, adhered to the PVC sheath, leaving a brittle cable that cracked and split, exposing live conductors, which was reported to have caused a fire in the local timbers within a dwelling. The plasticiser may also be readily flammable and without any fire breaks or seals a fire could spread to other parts of a building space.
It is reported that expanded polystyrene is most affected, but it can also occur with ABS or polycarbonate. It is stated by some manufacturers that modern PVC sheath compounds no longer react with expanded polystyrene, but if PVC sheathed cables are expected to be in contact with expanded polystyrene or other similar materials the advice of the cable manufacturer should be sought for the design.
Bitumen products and PVC sheathed cables
Bitumen and bitumen-based products are widely used in construction for roofing and waterproofing, and not so long ago a bitumen filled cable seal was used as a part of the incoming electricity supply cut-out to terminate a Paper Insulated Lead Covered (PILC) supply cable into a dwelling. Again, the PVC plasticiser can leach out of the cable and soften the bitumen, and in some severe cases, it can leak out of the cut-out chamber or make any waterproofing application useless.
Summary 
Over the many years of use of PVC, cable manufacturers have identified most compatibility problems and resolved them, however, there are always new building products coming onto the market. It is wise to check with a cable manufacturer when installing PVC insulated and sheathed cables in any new or unusual situation, or when it is proposed to use chemicals such as wood preservative on timber they are fixed to or perhaps paint over the cables. 
This article has considered some of the possible physical installation risks to PVC insulated and sheathed cables, but of course, the general thermal risks of cable operation due to current carrying, installation in thermal insulation and operating temperature and environment will also always be present.