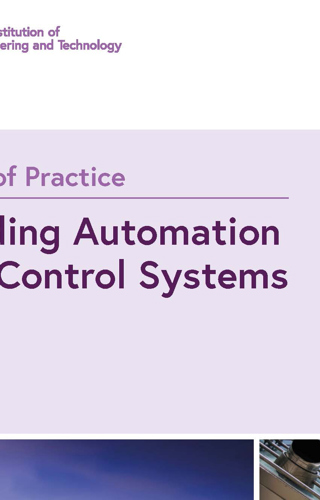 Code of Practice for Building Automation and Control Systems
Using automated controls reduces the need for manual intervention. At their most basic this might be a standalone thermostat to control space or water heating. Early forms of building services controls may have had rudimentary fault alerts to indicate operational status and these would have required on-site expertise to check and manage.  Technology has evolved to provide building management systems that monitor faults more centrally through automated links. The introduction of communications systems provides opportunities for remote controls to switch systems on and off. The use of computers enables a schematic version of the system to be used to visualise operational status and highlight faults. Advances in technology in the last few decades, particularly in energy metering, enables monitoring of the energy performance of building services as well.
But, as technologies become more complex, how do you design such systems? And how can they be managed to be an effective operational tool. How can you improve the energy performance of a building installation? Do you understand your whole installation and the other services that might be integrated into a more holistic building automation and control system? How do you identify stakeholders during the design stage and when do you engage them? How do you integrate seemingly disparate building services systems to ensure that the needs of the end users are met and energy consumption is reduced as much as possible?
The design requirements of Building Automation and Control Systems (BACS) should explore why, when and how. Is it a new build? Is it a refurbishment? What are the limitations of legacy equipment and infrastructures? Has the design considered how the system will be commissioned and the ongoing maintenance requirements? Working through BS EN ISO 16484-1 provides parallels with the RIBA stage milestones for BACS design development. BS EN 16247-2 demonstrates energy flow through a building and how BACS influences the implementation of controls and monitoring the use of energy.
The operational requirements of BACS should consider safe operation. With constant monitoring and alerts, systems can be optimised and managed to ensure economical operations and energy efficiency. BS EN 15232 gives guidance on BACS energy performance for a certain number of building services that use most of the energy in a building, but the full scope of services in your installation may well include other systems that might have some direct or indirect impact on energy performance. How do you rationalise those changes? Have the appropriate stakeholders provided the correct input at the design or operational stage? Can iterations be clearly defined to improve energy consumption in the next reporting period?
Increasing integration of a wide range of other building services and access via on-site and off-site data networks may mean that cybersecurity becomes an issue. Digitalisation of designs and commissioning data requires new platforms for building information to be shared amongst staff. Are the appropriate resources in place for these advances in technology? Have the correct training programmes and level of qualifications been identified for all personnel that will interact with BACS in your installation?
The Code of Practice for Building Automation and Control Systems is now available to pre-order from the IET.
The publication provides comprehensive advice on specifying and implementing building automation and control systems. It also shows how BACS is an important tool for energy management, can be used to improve an installation's energy performance and the benefits of integration of multiple building services system.
The reader will be able to evaluate the design of a building automation and control system, from concept to commissioning and beyond, against national and international standards and communicate with a client about that level of energy efficiency it may achieve. As a design tool, it will improve consulting engineers' knowledge about building controls, and help them to specify systems more effectively. As an operational tool, it will develop facilities management engineers' knowledge and provide guidance on the language of building controls and energy efficiency. The document is also on-site reference manual that can be applied to projects on a regular basis and used to optimise energy performance.