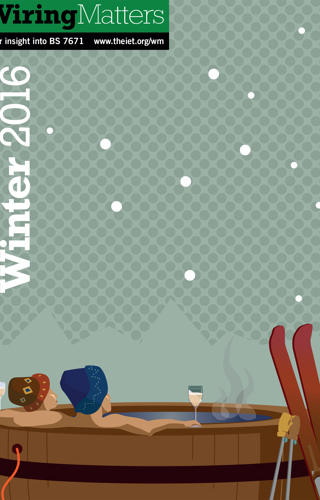 Warning - Important Safety Notice
RECALL of Hager 10kA Miniature Circuit Breaker (MCB)
Date: 5th October 2016
Dear Customer,
We are contacting you to inform you that during our internal quality control process a raw material non-conformity has been detected.
This raw material non-conformity could affect the correct functioning of the Hager 10kA MCB with references as indicated in Appendix CPA (see PDF under Download) sold between 7th July 2016 and Today.
Based on our investigations, this non-conformity could lead to a potential MCB malfunction which could cause fire or electrical shock danger.
For this reason, on the basis of the Precautionary Principle and user safety, we have made the decision to recall the Hager 10kA MCBs concerned.
To ensure maximum effectiveness of the operation and to prevent or, at least, minimise danger and risk to your customers and users, your full support and cooperation is absolutely essential.
With immediate effect upon receiving this letter, we kindly request that you:
1. Immediately stop the Installation of Hager 10kA MCBs with the references indicated in Appendix CPA purchased between 7th July 2016 and Today.
2. Identify any Distribution Boards where you have installed the references concerned.
3. Make an inventory of the number of MCBs you have installed for each reference concerned.
4. Without delay, replace any Hager 10kA MCB references concerned in Appendix CPA you may have installed. Also remove any of these references from your stock and either send them back directly to Hager or contact us and we will arrange a collection.
5. Document and report back your costs (travel, checking & replacing, time & material) with evidence¬ using the report Appendix CPB. All costs will be reimbursed in line with the Compensation Policy a copy of which is obtainable from the Recall Team.
Please do not hesitate to contact us if you need any assistance regarding this recall.
Our contact details are:
Telephone:- 01952 675555
Email:- mcb@hager.co.uk
We remind you that, in accordance with legal requirements, your full legal liability and responsibility could be involved if you fail to act promptly on the action points listed in this communication.
We thank you in anticipation for your support and cooperation and we apologise for the inconvenience this matter may cause to you and your customers.
Best Regards
Bruce Davies
Managing Director
Check if REFERENCE of product is in list below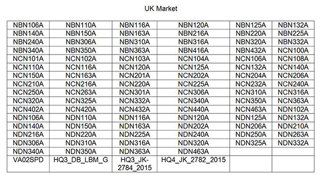 Therefore, we ask you to:
1. Check current stock for any identified products on the attached return form, manufactured between 7th of July 2016 and 25th of September 2016, and remove all non-conforming items from sale.
2. For products in the original carton the date code is identified as shown: The 8-digit code is Year/Day/time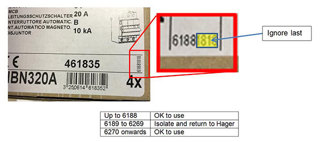 3. For product which is not in the original carton the 10kA rating can be identified as shown below. There is a date code on the MCB located on the top surface above the grey actuator. This relates to the week of manufacture as shown below: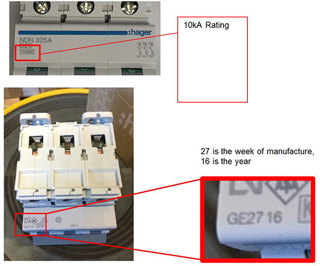 If the code is shown on the table below, then please return stock to Hager.