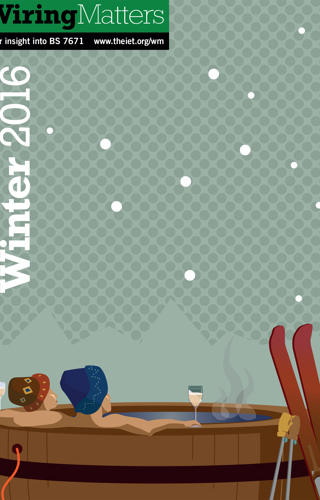 Student's Guide College Roadshow: Isle of Wight
As usual, we had some fantastic guests to take with us on the Roadshow.  Anthony Medway from MICC spoke about mineral cable – clearly a topic of interest with students (gauging from their eagerness to talk with Anthony after the event!) who are familiar with the cable as many of them work with it at the college.
James Eade, who many of you will know as author of Temporary Power Systems but who has also been helping us behind the scenes to source our Wiring Matters articles on theatre, gave a stellar performance talking about the various career opportunities available to students, then focusing on how students and apprentices could carve out a life beneath the lights working in big event installations or theatre. We thought James' talk would be of particular relevance given the Isle of Wight festival every year!
We were fortunate to be joined by the Recruitment arm of Strainstall, a division of James Fisher & Sons. Their aim was to engage with students who might be interested in learning more about available apprenticeships and career paths after they complete their studies. I didn't anticipate that the entire hall of students would be lining up to sign up and learn more, and it shows the need to bring recruitment opportunities to students around the UK. 
IET host of the event, Steven Devine, provided an overview of the IET to the students and introduced them to how BS 7671 is developed and the other activities the IET is involved in.
Find out more
You don't need to attend a College Roadshow to find out more.
If you've not yet bought a copy of James' Temporary Power Systems, have a look at his website.
If you're a student, look back over this year's issues of Wiring Matters for some interesting reads on theatre work, including a host of interviews with electrotechnical engineers, and look on the Job Profile Bank for information about how to get involved in this fascinating area of the industry.
If you know anyone in the area who might be after an apprenticeship, please pass on the website: http://www.strainstall.com
You can also find out more about the speakers and the day itself by watching the video.
We filmed some technical videos at the College, and would like to thank Ryan Evemy and Ryan Adhimar for participating in those and giving some sterling performances! We're looking forward to publishing the videos on IET.tv and on the Student's Hub early next year.
Would you like us to visit your college?
Our schedule of college visits is already underway. Please get in touch if you'd like to find out about opportunities for your college.
Each visit will comprise of speakers, freebies and a competition with prizes.