Start of main content
The Gold package includes e-books of the following titles:
BS 7671:2018 Requirements for Electrical Installations, IET Wiring Regulations 18th Edition (inc. Corrigendum Dec 2020)
BS 7671:2018+A1:2020 (inc. Corrigendum May 2020)
On-Site Guide to BS 7671:2018
Guidance Note 1: Selection & Erection
Guidance Note 2: Isolation & Switching
Guidance Note 3: Inspection & Testing
Guidance Note 4: Protection Against Fire
Guidance Note 5: Protection Against Electric Shock
Guidance Note 6: Protection Against Overcurrent
Guidance Note 7: Special Locations
Guidance Note 8: Earthing & Bonding
Electrician's Guide to the Building Regulations
Electrical Installation Design Guide: Calculations for Electricians and Designers
Electricians Guide to Emergency Lighting
Electricians Guide to Fire Detection and Alarm Systems
Code of Practice for In-Service Inspection of Electrical Equipment
Code of Practice for Electric Vehicle Charging Equipment Installation
Code of Practice for Grid-connected Solar Photovoltaic Systems
Code of Practice for Electrical Energy Storage Systems
Code of Practice for Electrical Safety Management
Code of Practice for Low and Extra Low Voltage Direct Current Power Distribution in Buildings
Code of Practice for the Application of LED Lighting Systems
Code of Practice for Electrical Safety Management in the Highway Electrical Sector
Guide to Smart Homes for Electrical Installers
Practitioner's Guide to Temporary Power Systems
Temporary Power Systems: A guide to the application of BS 7671 and BS 7909 for temporary events
Guide to Electrical Maintenance

Guide to Implementing Electrified Heat in Domestic Properties

IET Guide to Cables and Cable Management
Electrical Vehicle Charging Point Installation at Filling Stations
Guide to Electrical Installations in Medical Locations
Designer's Guide to Energy Efficient Electrical Installations
Recommendations for Energy-Efficient Exterior Lighting Systems
Student Guide to the IET Wiring Regulations
Commentary on IET Wiring Regulations 17th Edition (BS 7671:2008+A3:2015)
Guide to Consumer Units
Practical considerations for d.c. installations
All for just £418 a year.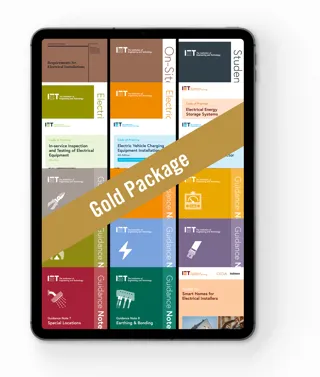 To enquire about a Gold package subscription, please complete the form below and a member of the digital Wiring Regulations team will be in touch.
You can also contact us at digitalwiringregs@theiet.org.